GET TO KNO3W POTASSIUM NITRATE: IN CITRUS NUTRIENT MANAGEMENT
KNO3 increases marketable yields of larger-sized fruit with intense color, both applied as foliar spray or in fertigation.
KNO3 improves tree health and boosts tree's defensas against frost and harmful diseases like HLB (citrus greening).
Nitrate nitrogen and potassium in KNO3 are immediately available for direct uptake by the tree.
Fast acting, naturally-derived potassium nitrate improves nutrient and water use efficiency in specialty crops.
lt is easy to mix, and is compatible with most nutrition programs.
High-quality, consistently formulated KNO3 from SQM is readily available and backed by agronomic research validating its ability to help growers maintain productivity and maximize marketable yield.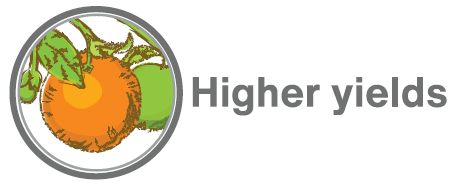 • Increased fruit weight and size
• lmproved peel color
• Reduced peel defects (splitting, creasing)
• More sugars and higher vitamin C content
• Quicker recovery of weakened trees
• Improved nutrient and water use efficiency
• lncreased ability to withstand stressors
• More flowers and fruits per tree
• KNO3 is the only K-source that does not cause salt stress
• Synergism between K+ and NO3- ensures uptake
• lmproved solubility
• Better tank mix compatibility
KNO3 maximizes citrus yield and profitability
University of Florida research demonstrates that a KNO3-based fertilizer program including three foliar applications of KNO3 at a rate of 25 lbs/A/spray applied pre-bloom (mid-February), post-bloom (April) and at fruit fill (July/August) increased yield and size of fresh market 'Valencia' orange when compared to an untreated control. Both the KNO3 based program and control program received standard recommended soil fertilizer applications 3 to 4 times throughout the season.
* 1 box = 90 lbs
**gross return based on fresh fruit market value
Source: boman, b.j. 2001. foliar nutrient sprays influence yield and size of 'Valencia' orange. proc. fla. state hort. soc. 114:83-88